Here, I would like to introduce one of the restaurant in Kuching. It is opened August 2007. The name of the restaurant is Daily Fresh Air-Con. Restaurant. 天天美食冷气餐厅. The air-conditioned restaurant with no extra charges is located at Jalan Song. Below is the map where the restaurant is located: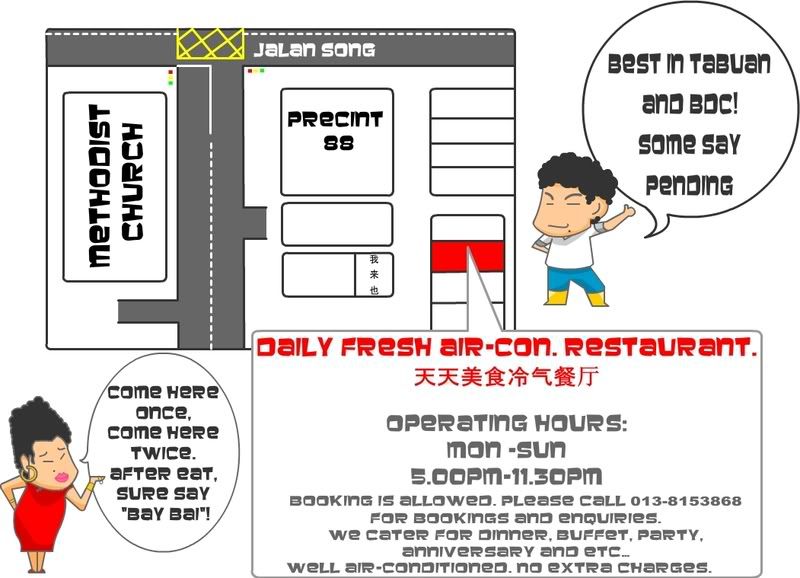 It opens 7 days a week from 5pm to 11.30pm (this is where its name comes from). "天天" "Daily" means everyday but not 24 hours la.. unless they are seven eleven). "美食" "Fresh" means there are lots of fresh and nice food. "冷气餐厅" "Air-Con. Restaurant" means the restaurant is well air-conditioned. (So kaypo…see already know it is air-conditioned restaurant…) The restaurant got the origin of their name so do our blog got the origin of egg yolks.

Although it is an air-conditioned restaurant, customer can opt for having their meal in the open air as well. There are tables outside the restaurant whereby customer can enjoy their meal out there while watching large screen TV (projector la…). This is exclusively for those who used to smoke. For those whose don't like open air, they can choose for the air-conditioned environment to have their meal but for non smoker lo...
Air-con view
Open air view
Open air view
Large Screen
You can have simple but scrumptious dinner here. It is a perfect venue to organize party, buffet, anniversary and etc with families and friends. Here is a nice place to gather them all.

Here are some of the buffet dishes ordered by customer on 4 January 2009:
Buffet beehoon
Buffet 咖哩鸡
Buffet 酸甜鱼片


Buffet 越南大虾(customer own prawns)
Buffet 红烧日本豆腐
Buffet 什锦
Buffet 排骨王
Buffet Dishes
Open air buffet
The outlook of the restaurant might not be very luxury for you guys. It might seem to be a higher standard than a coffee shop but the dishes are as standard as five star hotels and others renowned restaurants. Maybe the owner of this restaurant gets the concept from Airasia. "Everyone can fly". Now the Daily Fresh Air-Con. Restaurant 天天美食冷气餐厅 concept is "Everyone can Eat" with reasonable price. It is a great a dining hall for families and friends to have their meal there.
This restaurant has its own specialty in Chinese cuisine. Every dish is created to satisfy the individual. It is quite famous in seafood. For those who love seafood, here is the right place for you guys. Prawns, crabs (you can choose it yourself at the display shelf), fishes, "bamboo worm 竹 蛤 (not always available)", clam (not always available)…etc …

There are various nice dishes that you guys can try on it. Asam curry fish, 招牌豆腐, 红烧猪脚, 梅菜扣肉, 沙叻炸虾球, 奶油丝虾, 嚎煎, 苦瓜炸咸蛋, 生捞海哲, 越南大虾, 沙叻鸡, 茄汁螃蟹, 清蒸螃蟹, 红烧日本豆腐, 排骨王, 酸甜鱼片, 咖哩鸡, 什锦 and many many more (I guess I can't mention all here unless I put their menu in. Hehe)

I like the butter prawn 奶油丝虾 very much. It makes my mouth watering now. Maybe you guys might say Sarawak Club is the best but I think they are almost the same. The only difference is the environment and name. Sarawak Club can be considered as a high standard and well-known restaurant. I can't say Daily Fresh Air-Con. Restaurant is high standard restaurant yet because it is too new but the meals are quite outstanding as well.

You can try their 招牌豆腐, tauhu as well. It is made by their chef. You can't find it out there. Personally, I don't like to eat tauhu but the only tauhu that I eat is from this restaurant. 沙叻炸虾球, 红烧猪脚, 梅菜扣肉, 嚎煎, 排骨王 and all those I mention above are my favorites. You may not believe. Never try never know. Once you try you will know the difference. That is what I tell my friends before they try it.
奶油丝虾
招牌豆腐
越南大虾
沙叻鸡(半只)
茄汁螃蟹
This restaurant had been interviewed by 詩華日報 (See Hua Daily) reporters before and the interviewed was published in 詩華日報 (See Hua Daily) on 25th April 2008.
Reporter's choice See Hua Daily 25th April 2008
In conjunction of Chinese New Year, Special Menu Packages are designated for customer during Chinese New Year Eve. For those whose don't like to have their Chinese New Year Eve dinner outside, you can "Tapao" as well. All the packages and menus are as below (I don't have to be "loso" and kaypo to write all that packages because the specially designed picture shows everything)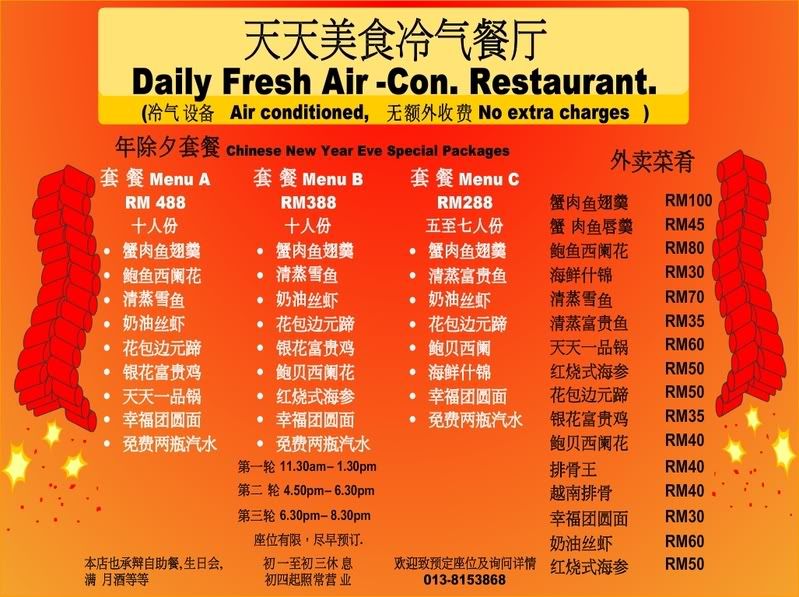 Photographer: Egg's Cousin